Hi everyone~I have been creating with the super cute, Dimestore Vogue.  I love those gals!!!  They are truly fashionista's!!  I wanted to use photos of my boys and their families, so this paper was perfect!!!  Here is the first one~
I love the baby blue color and the craft bingo card matched so well.
I used old dictionary pages to cover the dress form chipboard piece ~ love that look.  Here is the second gal~ she loves pink!!!!
On this layout I loved how I was able to cut the banner out of the paper, and use it as an embellishment.  A little Twirly Twine made it look extra special!!!!
I used the  Family Fun/Glamour Mom to make some pocket cards.  One sheet of paper makes two cards!!!  I folded the paper in half, selecting the side with the images for the fronts of the pocket.  I had just enough left to make a tag, which goes inside the pocket. I used Tinted Tape/Soot to close the bottom of the pocket. I also added the Tinted Tape to the bottom of the tag.  Take a look~
One more thing I wanted to share with you~I love to go junkin' and while in Indiana visting my oldest, we went junkin':):). Yes, it made me happy!!!  I found the cutest kids stamp set and it had to come home with me~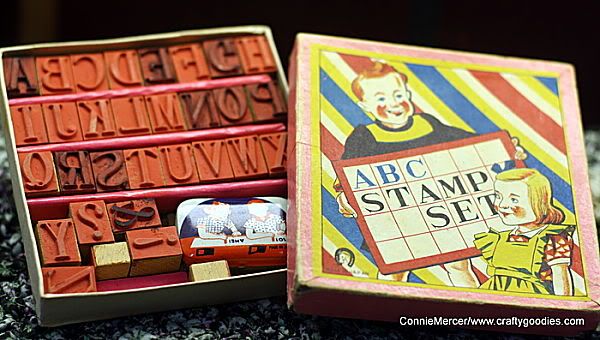 I think it is adorable!!! Thanks for stopping by today and I'll see ya soon!!! by: Connie M